Red's Banquet Information
All banquets, parties and reservations should be made through Julie McDonald at 231-845-2522 (between 9:00 am. and 5:00p.m.).
A deposit guarantee is required for group functions, as well as a written contract.
We now have Red's Banquet room; it is private and holds 45- 50 people maximum.  Our back dining room can also be used as a banquet room however it is less private; it holds 45 people maximum. We reserve the entire restaurant including Red's,  seats 200, under special circumstances and arrangements.
All arrangements for menus and other details must be finalized three weeks prior to your event. Final attendance numbers confirmed 48 hours prior to event will be the minimum per person charge billed. If you choose the "plate style menu " we must receive estimated numbers on entree choices two weeks prior to your event to ensure availability.
We are a brewpub that brews our own beer onsite, however we also have a full-service bar, a great wine list and an assortment of domestic beers. You can choose: a cash bar set-up; wine by the bottle; a carte blanche, open bar tab; or a bar tab limit. These arrangements need to be made two weeks prior to your event.
Parties requesting a chef present in the banquet room will be charged an additional service charge of $25.00 for the first three hours and $10.00 per additional hour. This is an automatic charge with our buffet style Prime Rib entree.
There will be a private room charge for any party with less than 30 people. All perishable food at appetizer parties will be removed after 2 1/2 hours.
Our bar closes at 10:00 p.m. Sunday through Thursday and Midnight on Friday and Saturday. All Federal, State and Local Laws with regard to food and beverage purchases and consumption are adhered to strictly. We appreciate your cooperation.
Outdoor Harbor Front Venue
Jamesport has a beautiful outdoor harbor front location to have weddings or large get togethers.  Please call for more information on pricing.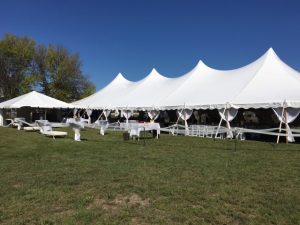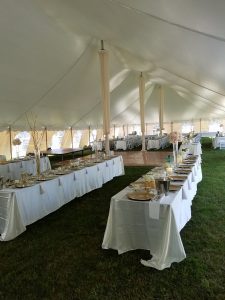 Jamesport Catering Menu
Appetizer Trays
Chicken Skewers / Shrimp (peel & eat)
Cheese & Crackers (cubed cheese or spread)
Quesadillas (Chicken, Vegetable, Shrimp – Additional Charge for Shrimp)
Below are some samples of menu choices. We are also happy to work together to create a custom menu to fit your function. Along with plate style, we offer buffet style, or family style options.
Plate Style Menu
Entree (choice of two), Side dishes (choice of two), Tossed Salad, Desser (choice of two), Table Bread
Premium Entree Choices:
Prime Rib
Seafood Linguine
Orange Roughy Oscar or Seafood Stuffed
Shrimp Scampi
Maple Glazed Salmon
Basil Garlic Baked Salmon
Garden Walleye
Coconut Shrimp
Portabella Chicken
Kabobs (Chicken, Pork or Beef)
Basic Entree Choices:
Triple Sec Chicken Cordon Bleu
Baked Cod
Portabella Chicken
Four Cheese Chicken Pasta
Roast Turkey
Roast Beef
Baked Half Chicken
Baked Ham
Roast Pork Loin
Cajun Chicken Pasta
Southwestern Chicken
Fried Perch or Pollock
Portabella Stuffed Ravioli with Red Pepper Cream Sauce
Standard Entree Choices:
Baked Chicken
Baked Ham
Beef Roast
Pork Roast
Baked Cod
Side Dishes:
Choice of Vegetable
Grilled Vegetable
Baked Potato
Twice Baked Potato
Broccoli/Cauliflower Au Gratin
Au Gratin Potatoes
Garlic Mashed Potatoes
Baked or Mashed Sweet Potatoes
Rice (Wild or Spanish)
Salads:
Tossed (Iceberg & Romaine) – 3 dressing choices
Fruit Salad (additional $1.00)
Cole Slaw
Potato Salad
Pasta Salad
Crab Salad (additional $1.00)
Soups: additional $1.00 per person
Your Choice
Dessert:
Tiramisu
Pies (Your Choices)
Cheesecake (Your Choice) (additional $1.00)
Creme Brulee
Ice Cream Sundaes
Cookies
Chocolate Mousse Cake
Sorbet
Call 231-845-2522 for more information and pricing. A pdf version of the Jamesport Catering Menu can be printed and downloaded here.