OUR HISTORY
A Slice of Ludington History, Jamesport Center is a late Victorian six storefront complex. The earliest section was completed in 1890 and was occupied by the Johnson Bros. Saloon and the Central House Hotel. It was built by August Tiedemann, a noted local builder and architect, for two Swedish brothers, "Red" Andrew Johnson and Axel Johnson. It largely served sailors of the Great Lakes during the booming days of logging in Western Michigan.
In 1892 a second structure with decorative cast iron columns was added.(Now, entrance to Sunset Bay Antiques.) It served as the lobby of the Central House Hotel and provided a dining room, upstairs parlor rooms and additional bedrooms.
In 1905 the final four storefronts were added to provide apartments for the employees of the recently completed Star Watch Case Co., then located on nearby Rath Street. The ground level store-fronts of the buildings have been used for a wide variety of trades over the past 120 plus years, including a butcher shop, a millinery, a theatorium, a dry cleaners, a hardware store, a clothing shop, various furniture stores, the State Liquor Control Commission store, a bicycle shop, the local headquarters for the National Maritime Union, and currently, Sunset Bay Antiques and Jamesport Brewing Company.
The Johnson brothers wives both passed away at a young age. Axel's wive Hilda died giving birth to their 7th child. Andrew had 3 children of his own. They sent for Hilda's sister Ida from Sweden. Ida arrived in Ludington and she decided to stay, marry Axel, and raise the 10 Johnson children. She returned home to collect her belongings and purchased a third class ticket on a famous ship for her voyage back to Ludington. She boarded on April 10, 1912 and when the Titanic sank days later she was one of the 1500 passengers that lost their lives.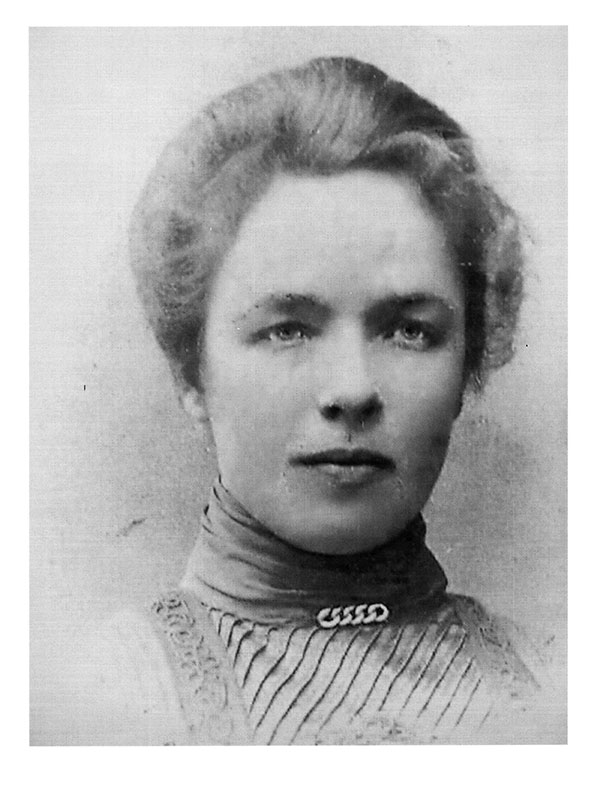 BUSINESSES ON
JAMES ST PROPERTY
EARLY 1900s 
Central House Hotel (404 S James, 2nd story))
Johnson Bros. Saloon (402 S James)
Barber Shop (406 S James, Frank Vouten)
Industrial Iron Works (404 S James, Patterson & Rohn)
BUSINESSES ON
JAMES ST PROPERTY
EARLY 1900s (con't)
Chas Johnson Upholstering (410 S James)
Chicago Store (408 S James, dry goods)
Temple Theatorium (410 S James)
Skoog & Borg Hardware (404 S James)
Alfred Peterson Boots & Shoes (406 S James)
BUSINESSES ON
FOSTER/CHARLES (RATH) ST
EARLY 1900s
JH Davies Boiler MFG (Foster & Charles)
Antoine Hamel, Carpenter (102 W Foster)
Ludington Lumber Co (402 S Charles)
Photos of the building rennovation in the 1990's.